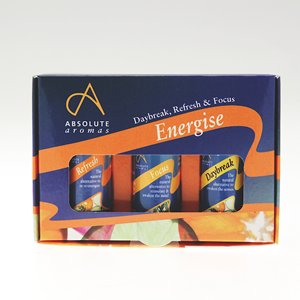 Energise - Essential Oil Blend Kit
These little bottles of sunshine aromatherapy blends are great to incorporate into a self-care and wellbeing routine, making it an ideal treat to yourself, or as a gift for your favourite person.
The kit includes:

10 MLS of Daybreak
10 MLS of Refresh
10 MLS of Focus
Applications:

Put a few drops on a tissue and inhale.
Add 1 to 2 drops to a bowl of just-boiled water, cover your head with a towel and lean over the bowl. Breathe normally for a few minutes; repeat for up to for 10 minutes in total.
Add a few drops to running bath water with

 

bath dispersant or oil, clearing bath soak.
Place a few drops into a diffuser, to refresh the air.
Contraindications:  Non-toxic, non-irritant in prescribed doses.  Keep away from children.  During pregnancy consult with a personal health care provider.