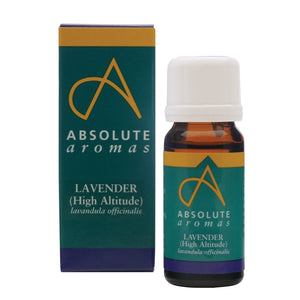 Lavender, High Altitude (France)
Lavendula angustifolia - France
Plant Family: Lamiaceae (Labiatae).
Method of Extraction: The oil is steam distilled from the freshly cut flowering tops.
Main Therapeutic Properties: Analgesic, Antibacterial, Antifungal, Anti-inflammatory, Antirheumatic, Antispasmodic, Calmative.
Contraindications: Non-toxic, non-irritant in prescribed doses.  Keep away from children.   Consult with a healthcare provider if pregnant
Did you know: The plant name is derived the Latin word 'Lavare' - to wash, probably from its use to cleanse wounds.
Oil Appearance: Clear to pale yellow.
Chakra: Heart, Crown & Base.
Chinese Element: Fire (& Wood).
Lavender is a hardy shrub which grows up to one meter in height.
Lavender has a fresh, floral, sweet aroma and is clear to pale yellow in colour. Our Lavender grows at around 1,000 metres in the foothills of the Alps, in the Provence region of France. It has a 44% Linalyl Acetate content indicating a superior quality oil. Its overall Ester content is 50-52%, which gives this exceptionally fine oil its gentle, rounded aroma.