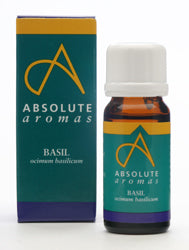 Basil, Linalool Type (Egypt)
Ocimum basilicum
Botanical family:  Lamiaceae (Labiatae)
Extraction:  Distilled from the leaves of the plant.
Fragrance: Profile: Warm spicy - middle/base note
Therapeutic properties:  Antiseptic, antibacterial, decongestant, uplifting.
Appearance: Clear, sweet, spicy and clear yellow tint.
Contraindications:  Stimulating and skin irritant when used above prescribed dosages.  Keep away from children.  Do not use during pregnancy. Absolute Aromas selects Basil linalool type to ensure safety.  There are 5 types of basil essential oils on the market today that range in high contents of phenols which are skin irritants and may be toxic when overexposed to the essential oil.
Basil Linalool type is helpful for mental and physical fatigue, it aids in mental stimulation and concentration when used in the proper dilutions
Typical Chemical Constituents in Basil Linalool Type
| | |
| --- | --- |
| LINALOOL | 18-20 |
| METHYL CHAVICOL | 65-70 |
| METHYL SALICYLATE | 1-3 |
| LINALOOL | 20-3 |
| BETA CARYOPHYLLENE | 2.19 |