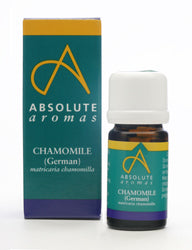 Chamomile German (Egypt)
Matricaria chamomilla
Plant Family: Asteraceae (Compositae). 
Method of Extraction: The oil is steam distilled from the dried flower heads.
Main Theraputic Properties: Anti-inflammatory, Antispasmodic, Analgesic, Calmative, Digestive stimulant, Stomachic.
Fragrance Profile - pungent deep base note.
Contraindications:    Non-toxic, non-irritant in prescribed doses.  Keep away from children.  During pregnancy consult with a personal health care provider.Oil Appearance: Blue.
Chakra: Throat.
Chinese Element: Wood.
Soothing and comforting to sensitive skin.  German Chamomile is known for its anti-inflammatory properties