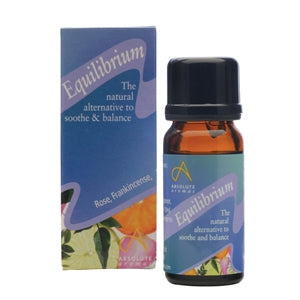 Equilibrium Aromatherapy Blend
The natural alternative to soothe and balance. At times when life is challenging, Equilibrium can help to soothe and balance.  It is especially helpful for women during menstruation and the menopause.
Applications
Bath:  Dilute up to 4-6 drops in a carrier oil or bath dispersant and stir into warm bath water.
Massage:   blend a total of 6 to 8 drops in 30ml of carrier oil to make a massage blend suitable for most adults.
Nasal inhaler:  Add 5-10 drops in a nasal inhaler and breath when needed
Roll on Perfume:  Add 5-10 drops in a carrier oil and put in a roll-on bottle.  Apply on the pulses as a perfume.
Body Lotion:  Add 5-10 drops into 50 mL of fragrance-free body lotion and use as a moisturizing base.
Essential Oils Include: Cinnamomum Camphora (Ho) Wood Oil, Citrus Aurantium Bergamia (Bergamot) Fruit Oil, Boswellia Carterii Oil (Frankincense), Citrus Aurantium Dulcis (Orange) Oil, Citrus Aurantifolia (Lime) Oil, Rose Centifolia Flower Oil, Vetiveria Zizanoides Root Oil.

Contraindications: Non-toxic, non-irritant in prescribed doses.  Keep away from children.  Consult with a with your health care provider if pregnant.