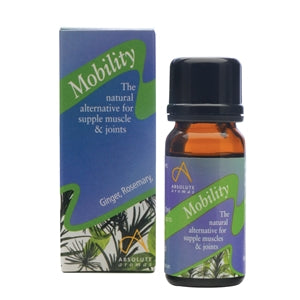 Mobility Aromatherapy Blend
A natural aromatherapy blend to soothe and relieve aching muscles and joints with warming Ginger, Cinnamon, and Fennel.  The natural pain relieving properties of Peppermint and Ginger help to ease aching muscles and joints.  Cooling Peppermint, Eucalyptus and Rosemary help to provide and natural pain to relieve action when massaged into the skin. Cinnamon, Fennel and Ginger warm the muscles and help to repair and restore.
 Applications
Massage: 

 

 blend a total of 6 to 8 drops in 30ml of carrier oil for local massage of painful joints.  Suitable for most adults
Body Lotion: 

 

Add 5-10 drops into 50 mL of fragrance-free body lotion and use as a moisturizing base.
Diffuser:  Add 5-10 drops into a diffuser for 20 minutes prior to sleeping
Essential Oils Include: 
Essential Oils Include: Picea Excelsa (Spruce) Leaf Oil, Rosmarinus Officinalis (Rosemary) Leaf Oil, Cinnamomum Camphora (Camphora) Bark Oil , Mentha Piperita (Peppermint) Oil , Thymus Mastichina (Thyme) Oil, Cedrus Deodara (Cedarwood) Bark Oil, Ocimum Basilicum (Basil) Oil , Foeniculum Vulgare (Sweet Fennel) Oil, Eucalyptus Citriodora Leaf Oil, Zingiber Officinale (Ginger) Root Oil, Betula Alba (Birch) Oil.
Contraindications: Non-toxic, non-irritant in prescribed doses.  Keep away from children. Do not use during pregnancy