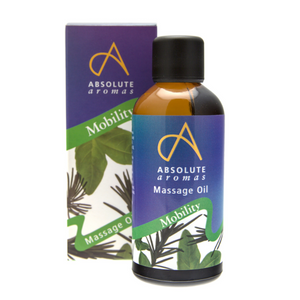 Mobility Massage Oil
Mobility is a powerful fusion of pure essential oils and rich carrier oils, designed to ease overworked joints and comfort tired & aching muscles. It also promotes positive circulation.
Mobility is an everyday warming and invigorating blend, great for anyone who suffers from muscle stiffness and everyday aches and pains, maybe owing to sports activity, over-exertion, or even age.
The unique combination of essential oils in this blend also helps to promote positive circulation.
Methods of use:
Body Oil: After showering or bathing massage into the skin to melt away everyday aches & pains. The blend absorbs quickly into the skin, leaving a soft silky feel and no oily residue.
Bath Oil: Add 3 capfuls to warm running water for bath time treat.  
Please note: take caution when getting in and out of the bath, as the oil can make the bath very slippery.
Ingredients:
Essential Oils:  Spruce, Basil, Camphor, Cedarwood, Peppermint, Marjoram, Rosemary, Eucalyptus Citriodora, Fennel, Ginger, Birch.
Carrier Oils: Sweet Almond, Evening Primrose, Jojoba
Also Contains: Tocopherol (Vitamin E)